With an average annual
population growth rate of 3.7%
in the area, Argyle real estate is in high demand. Argyle provides a perfect mix, offering small-community living and a population of around 4,000, while enabling residents to tap into the benefits of close proximity to the Dallas-Fort Worth Metropolitan Area. With good scores for livability and cost of living, it is no surprise Argyle ranks as one of the
fastest-growing cities in the country
. Regardless, with a little preparation and education, a smart home buyer can still find a home here that fits their needs.
If you're looking for a new home in Argyle, this home buying guide will put you onto the right path. With patience and an experienced agent, you'll navigate the Argyle real estate market with confidence and find a property you will be happy to call home.
Evaluate what you will spend
Almost anyone looking to buy a home will be considering their mortgage options, and this holds true for Argyle real estate. When calculating how much a buyer wants to spend, it is generally advised to allocate around one-third of monthly income to debt payments. Even with the very reasonable cost of living in Argyle, buyers should not be tempted to push their debt load beyond something they can easily sustain.
In calculating what you want to spend on purchasing a home, you should also take into account your down payment. Interest rates are expected to
continue rising
, so paying as much as you can upfront for your new home is a wise decision. In addition, being able to approach the sale ready to pay a larger down payment than other potential buyers will give you a competitive edge with sellers.
It is also likely that any home you buy will need a few changes to become the home you want it to be. Make certain that you account for future home expenses when deciding how much you are willing to spend. In addition, consider the fact that although a particular home may not have
everything
you want, you could easily turn it into the perfect home for you with some updates.
Keep timing in mind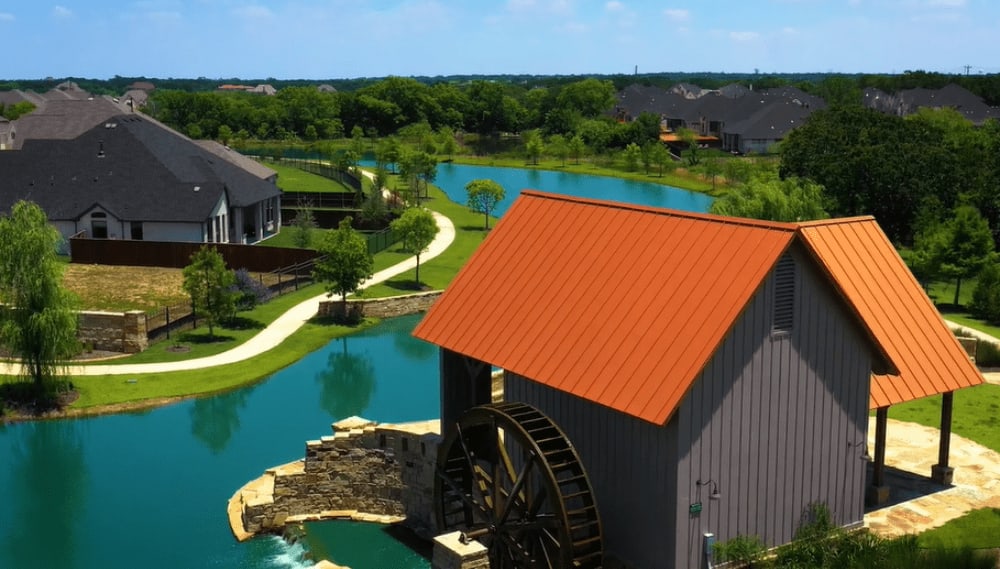 Photo courtesy of the Argyle, Texas website
Regardless of where you are looking to call home, timing is often everything. In Texas,
fall and winter are the best times to buy
in general. But that can be affected significantly by movements within the housing market, particularly when looking for a home in a small community. Just because more homes are on the market during a specific time of the year does not mean the home that will fit you will be for sale when the market is leaning to your advantage.
This is where the experience of a buyer's agent familiar with the local market can be extremely helpful. Not only will a good agent know how the local market is likely to behave, they are also more likely to have the connections and insights to help you to find the right home for you.
One benefit of a small community is that shopping for a specific neighborhood will not be as big of a factor, as everything is relatively close to everything else. On the other hand, the number of homes that will spark your interest may be fewer. The best approach is to start working with an agent long before you want to move to the area. It can take patience, but being willing to spend the extra time shopping will pay off when you find the perfect home for you.
Learn about the area
Photo courtesy of Unsplash
Areas such as Argyle are known for their inviting, close-knit communities. While you are shopping for your new house, it is a perfect time to start becoming familiar with the place you plan to call home.
Stop in for a coffee
or
check out the local bakery
. Introduce yourself to people and get to know a bit about the area.
Take time to explore the area and gain insights that will inform your home shopping efforts. Perhaps you want to be near a fitness center, or you may discover a greenspace near a home about which you were otherwise on the fence. Visit during different seasons and take in the sights to familiarize yourself with not just where, but also how you will want to live within the community.
Keep your emotions in check
As with any home purchase
, when looking at Argyle real estate, you will still need to take all the necessary steps, including a home inspection and careful negotiations. You may fall in love with a property at first sight, and it can be very easy to let that affect your judgment. Particularly if you are moving from an urban setting and looking for a property with rural amenities, there are likely to be many aspects you do not even know you should consider. Make certain you talk about this with your agent.
Choosing a new home is inherently emotional, and it can be easy to get caught up in a view or some rustic element that touches a romantic sensibility. However, this is also an investment and ultimately a large financial decision, and while it is wonderful to find a home you love, you need to take a step back and make certain that the home is going to serve you long after the first glow has faded.
The best home buying guide is a qualified agent
The quiet simplicity of small community living can make a home in Argyle incredibly desirable and worth the effort and time it may take to find the right home for you. Make your life easier and simpler from the start by choosing the right real estate agent who will help guide you through every step. When you're ready to start the process, reach out to one of the experienced agents on the
North Texas Team
.
*Header photo courtesy of the North Texas Team