As one of North Texas' newest master-planned communities, Canyon Falls provides its residents a lifestyle without equal, catering to their every need and desire. Fashioned with refined, small-town sensibilities in an upscale rural-suburban setting, it's the rare community that can be all things to all people. But there's one group in particular who experiences a little extra joy in the development's idyllic setting: those who love the outdoors.
Nestled between Interstate 35 W and Highway 377, Canyon Falls sits only 30 minutes from downtown Fort Worth and 20 minutes from DFW International Airport. Its location places you mere minutes from the big city conveniences of Dallas-Fort Worth, including some of the metroplex's best shopping, dining, and entertainment districts.
With its genuinely
all-encompassing lifestyle
, Canyon Falls is also situated to take advantage of the region's best outdoor pursuits — not simply a quaint walking trail and a few neighborhood parks, but acres and acres of activity and access to many of North Texas' most vaunted outdoor venues.
Below, we'll journey both in and around this spectacular community to show you 25 ways to enjoy the outdoors in Canyon Falls.
Relish the outdoors in Canyon Falls
Canyon Falls community amenities
The simplest (and easiest) way to enjoy the outdoors near your Canyon Falls home is to take advantage of the neighborhood's numerous outdoor amenities. Designed to maximize the development's 1,199 acres, Canyon Falls provides its residents plenty of room to roam, with over 400 acres dedicated to outdoor recreation. It starts with an impressive natural space.
Graham Branch Creek corridor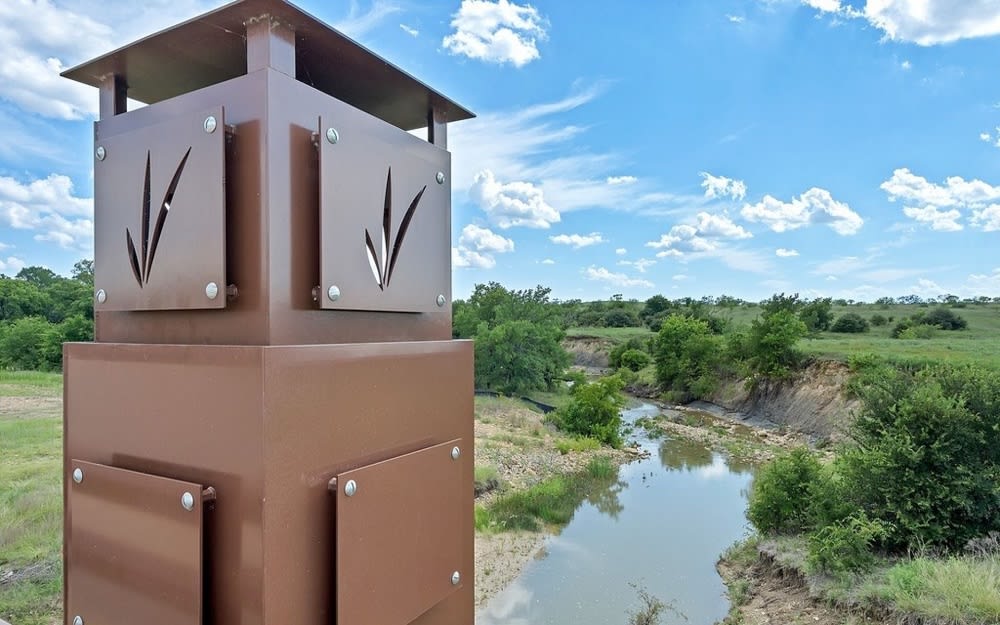 Photo Courtesy of Canyon Falls
At the heart of Canyon Falls outdoor recreation is over 200 acres of preserved natural open space. Stretching from Cross Timbers Road at the community's southern edge up to Denton Creek Drive near Canyon Falls' northern neighborhoods, the Graham Branch Creek corridor is a rarity among North Texas topography.
The beautiful landscape bestows a distinctly rural ambiance upon the Canyon Falls community. Filled with wildlife, including deer and an abundance of bird species, the de facto nature preserve is a showcase for those who appreciate living in a more serene setting. It's a point of pride among the three cities that make up this master-planned development — Argyle, Flower Mound, and Northlake — particularly when you consider you're less than 20 miles from the second-busiest airport in the world.
Rolling hills of open prairie tumble into mature vegetation and dense thickets of cottonwoods and oak trees. It all gives way to a natural creekside canyon and the gentle flow of Graham Branch Creek, which stretches for more than two miles, bisecting the Canyon Falls community. The area is designed with a unique natural setting as its centerpiece, and residents can experience it up close and personal via the development's vast network of trails.
Canyon Falls neighborhood trail system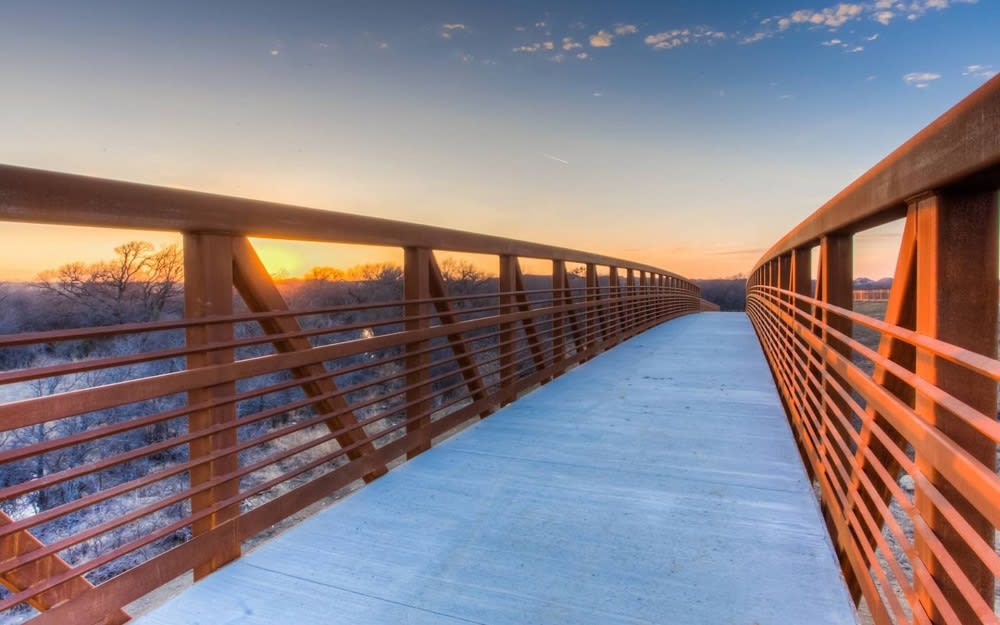 Photo Courtesy of Community Impact
As recently as a decade ago, the definition of "trail" in most new master-planned communities meant a neighborhood sidewalk or the golf course cart path if the development featured one. Today, however, developers are more sensitive to the growing desire of luxury homeowners to immerse themselves in a natural setting, including the opportunity to walk, jog, or bike among gorgeous natural surroundings. In Canyon Falls, that need is fulfilled with a nearly 14-mile- long trail system that continues to expand.
Meandering its way throughout Canyon Falls' 23 distinct neighborhoods, the trail network is the connective tissue linking together the entire development. It features an expansive concrete pathway that widens up to 10 feet and a collection of natural surface trails that ramble their way through the heart of the community and the Graham Branch Creek corridor.
Once it's fully built out, the trail system will feature approximately 17 miles of paths, a third of which will be natural surface. Whether you prefer to walk or jog for exercise, take a stroll with your family or a canine companion, or seek some adventure and hike or bike, there's a Canyon Hills trail specifically for you.
Parks and ponds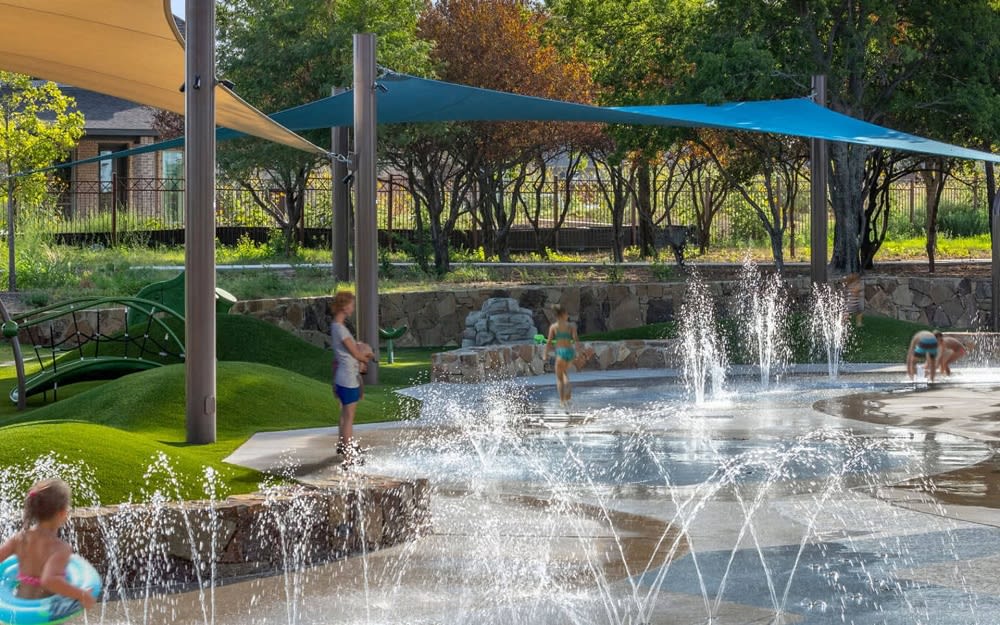 Photo Courtesy of CallisonRTKL
Further extending the community's extensive list of amenities, Canyon Falls' natural landscapes are enhanced with multiple neighborhood parks and a handful of fishable ponds.
Canyon Falls features three standalone neighborhood parks, the first of which is the Flower Mound-based, 10.7-acre Canyon Falls Park, which includes a playground and splash pad, basketball courts, walking trails, and outdoor fitness area. In the development's southern region, the Canyon Falls Pooch Park accommodates pups of all sizes with plenty of fenced-in space to let your dog run, fetch, or chill their fellow Canyon canines. Finally, Westbridge Park is a family-centric gathering spot with a pool, baby pool, sun-shaded playground, and an expanse of green space. At the end of the gently sloping lawn is the next noteworthy amenity within Canyon Falls: fishable ponds.
With seven ponds in total, all strategically placed adjacent to the trail system, these quaint bodies of water offer a picturesque rest stop for those out for a walk or run. Three ponds are stocked for family-friendly catch-fishing, making Canyon Falls a place where favorite pastimes can become a real family affair.
A few extras
Sure, the natural setting is the showstopper, and the many outdoor activities it affords residents the primary draw. But Canyon Falls offers a few more surprises that further cement this master-planned community as one of the region's premier places to call home.
The main cluster of amenities centers around the Canyon Falls Club, including an indoor fitness facility. Outside is the community's main pool, a shimmering, infinity-edge design with submerged tanning decks. Adjacent to the pool is a kid-friendly area with a large splash pad and a sun-shaded, wraparound playground. Capping off the space is two covered outdoor patios and a play lawn.
Finally, the open-air Hay Barn and Porch, which sit adjacent to the dog park, give residents a central gathering space for outdoor neighborhood events or more intimate private gatherings.
Outdoor adventures within 30 minutes of Canyon Falls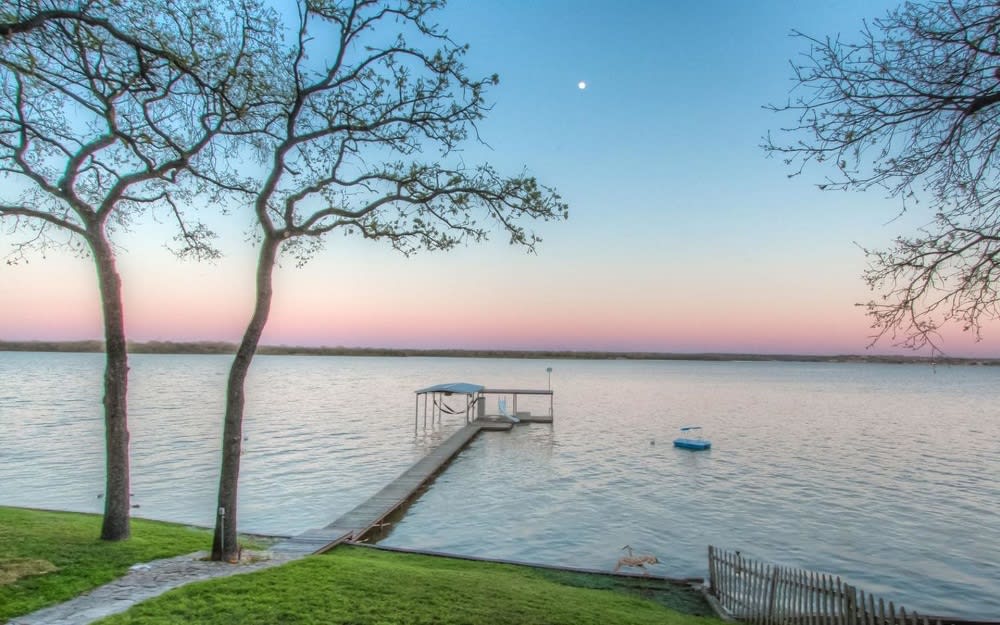 Photo Courtesy of Moses Druxman, Eagle Mountain Lake
Though you could spend considerable time enjoying Canyon Falls' outdoor amenities, you don't want to miss taking advantage of the community's most underappreciated feature: its incredible location within the DFW region. In addition to placing you near the heart of the country's fourth-largest metropolitan area (Dallas-Fort Worth-Arlington), life in Canyon Falls puts you just a short drive away from a wealth of outdoor riches.
From lakes and natural preserves to golf courses and outdoor entertainment venues, few luxury enclaves offer unparalleled access to open-air pursuits like Canyon Falls.
For example, one of DFW's most popular recreational lakes, the 11-mile long, 4-mile wide
Lewisville Lake
, is an easy 15-minute drive from the heart of Canyon Hills.
Lake Grapevine's
60 miles of shoreline, 30 miles of hiking trails, and nearly 800-acre Bob Hills Nature Preserve are even closer. Head west for just under 25 miles, and you'll discover the rustic magnificence of Tarrant County's
Eagle Mountain Lake
.
Of course, not everyone has a passion for boating or swimming in area lakes. Some prefer to hit the links in a vastly underrated golfing destination. DFW possesses a treasure trove of outstanding courses, many of which sit less than 15 minutes from Canyon Falls. The most notable include the celebrated
Tour 18 Dallas
, which features recreations of some of the country's most famous golf holes, and the
Cowboys Golf Club
, the home course for America's Team. The courses sit just 5 and 15 miles from Canyon Falls, respectively. Also nearby are three outstanding public layouts: Flower Mound's
Bridlewood Golf Club
, North Fort Worth's
The Golf Club at Champions Circle
, which sits in the shadow of
Texas Motor Speedway
, and the hidden gem that is the Robert Trent Jones, Jr.-designed
Sky Creek Ranch
in Keller.
If you happen to be someone important or know someone who is, you might be able to nab a tee time at the ultra-exclusive
Vaquero Club
, the home course for several PGA Tour professionals.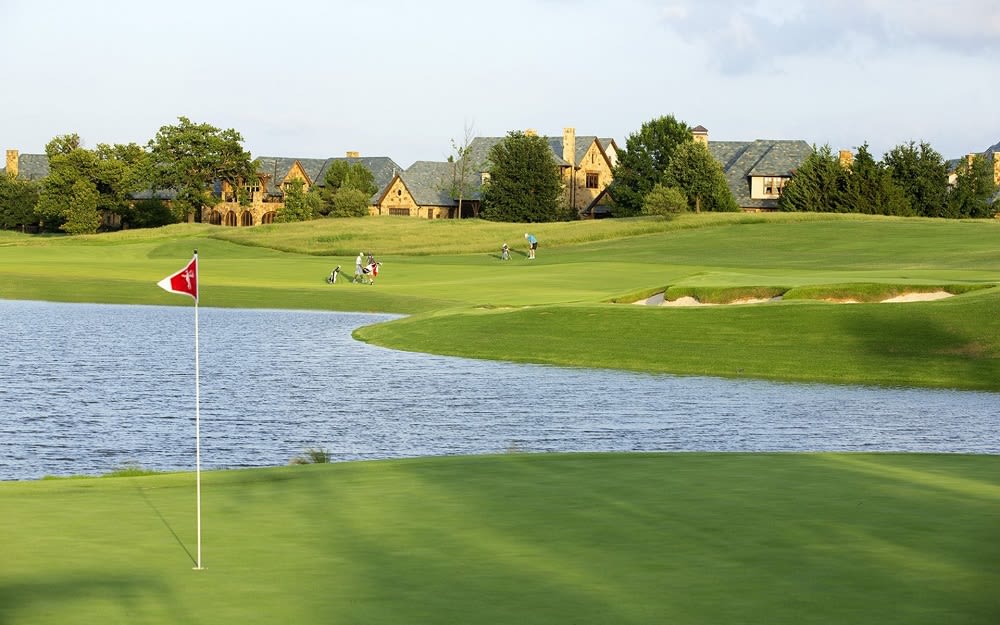 Photo Courtesy of LinkedIn, Vaquero Club
Finally, though it maxes out our 30-minute rule, we can't neglect to mention how close living in Canyon Falls puts you to the outstanding outdoor attractions of downtown Fort Worth. A straight, 26-mile drive down I-35W will place you at the center of the action. Highlights include the 35-square block
Sundance Square
outdoor entertainment district, the
Fort Worth Zoo
,
Botanical Gardens
, and
Water Gardens
.
Should you want to stretch your legs beyond Canyon Falls' 17-mile network of trails, you can work on conquering the more than 100 miles of paths that encompass the
Trinity Trails of Fort Worth system
, including 35 miles that stretch along the Trinity River.
Reach out to a Canyon Falls real estate agent today
Ready to explore even more of the great outdoors in and around the Canyon Falls community?
Contact the North Texas Team today
for more information on the area or start your home buying or selling journey. From Argyle real estate to Lantana luxury homes for sale, allow Jollete Ryon and her team's years of experience and expertise to be your guide to the North Texas luxury real estate market.
*Header Photo Courtesy of Thrillist